What do you do on New Year's Eve? The fateful night that marks the transition from one year to the next is always a source of doubts, hopes, plans, and… reservations! Yes, because it's always better to decide in advance what to do, and if your goal is to spend New Year's Eve at Lake Garda, then you just need to choose how.
There are many options, ranging from a New Year's Eve dinner at typical restaurants to thermal spas, New Year's Eve celebrations at amusement parks with kids, perhaps an adventurous New Year's Day or a romantic one amidst the mists of Lake Garda… on a boat!
New Year's Eve on Lake Garda by Boat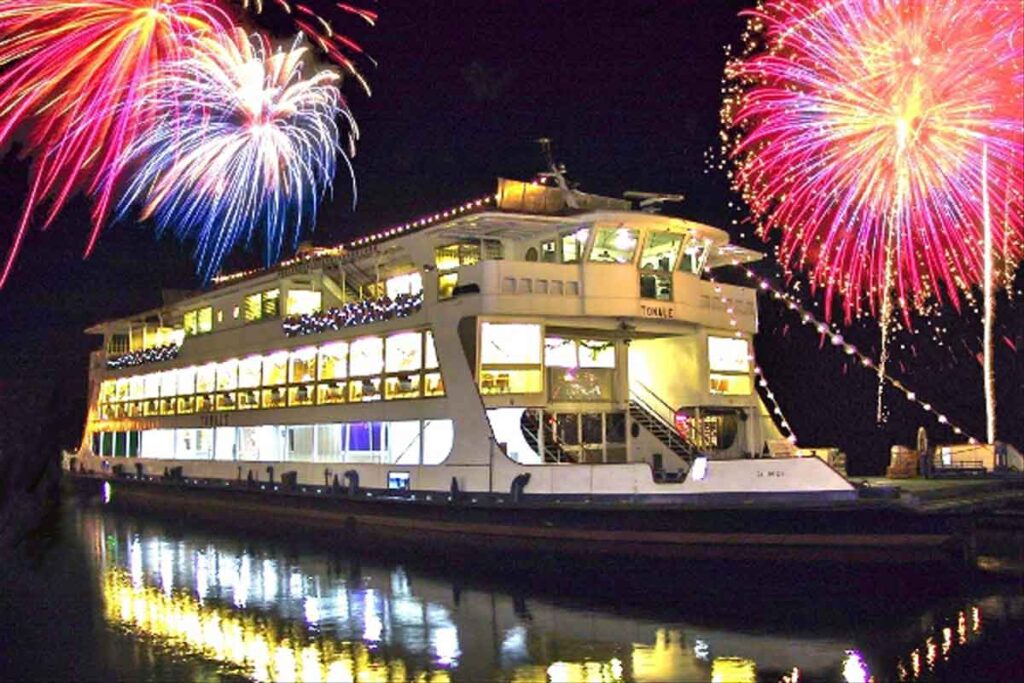 For those who love the exclusive and charming atmosphere of the lake, you can find yourself dancing on a boat in the middle of Lake Garda or on a mini-cruise. It's an experience to truly enjoy the allure of Lake Garda, either through a romantic boat dinner or by taking a tour around midnight. The spectacle will undoubtedly be enhanced by the fireworks that, like every year, light up the entire Garda coast, as many municipalities celebrate with fireworks.
For those who choose the mini-cruise on Lake Garda, the Tonale motorship is usually active, departing from Desenzano, offering space for a dinner and live music.
Dinner by the Lake
For food lovers, reserving a table at one of the many restaurants scattered along the shores of Lake Garda is a great option. From these spots, you can admire breathtaking views, New Year's Eve fireworks, and distant lights. The New Year's Eve feast typically offers a wide variety of options, ranging from local cuisine, featuring delicious lake fish and inland recipes, to creative cuisine at more refined restaurants.
Sometimes the New Year's Eve dinner includes live music, while other times it's suited for those seeking a romantic New Year's celebration, perhaps in a splendid villa by candlelight.
For food enthusiasts, there are many trattorias, osterias, and restaurant-inns in the historic towns along Lake Garda that also offer tastings of local wines, for an informal and gourmet New Year's Eve.
New Year's Eve at the Spa 
The widespread thermal waters in the area, especially in Sirmione, allow many people to book New Year's Eve vacations at a spa. A wellness journey that can culminate in an evening including the use of a pool, massages, wellness treatments, or beauty treatments.
Often, there are packages designed for the New Year's Eve week, especially in prominent locations like the Terme di Sirmione or the spas in Peschiera del Garda, Bardolino, Desenzano, Malcesine, or Limone del Garda. In the spa hotels in Riva del Garda or Torbole, in the northern area, there are numerous wellness offerings in a unique Trentino environment.
The advantage of these wellness centers is that you can usually also use tennis and golf facilities… to work off the New Year's Eve feast!
New Year's Eve in the Square
Many municipalities organize outdoor celebrations where you can toast to the arrival of the new year. In this case, you spend less but can enjoy the squares and fireworks that light up the sky and water every year. New Year's Eve in the squares of Desenzano, Sirmione, and Bardolino is famous.
The historic centers shine with illuminations, and the atmosphere is both relaxing and animated by stalls and people wandering through the streets.
You wait for midnight while sipping drinks, with DJ music in the background…
The day after New Year's Eve, after the romance of the midnight kiss or the toast among friends, there are also many markets to explore for those who find themselves in the villages along Lake Garda. Amid mulled wine and typical sweets, you can also discover the architecture and naturalistic areas near the towns of Lake Garda.
New Year's Eve at Gardaland
Amusement parks are always loved by children and adults alike. That's why, for New Year's Eve, it can be a great idea to take the kids to Gardaland and celebrate 2024 with special offers for those who want to have fun!
You can explore the adventurous paths of Gardaland Magic Winter and famous attractions like Blue Tornado, Magic Mountain, Mammut, Raptor… the unique landscape is created by the magical lights reflecting on the snow: the park becomes a Lapland landscape!
Luxury New Year's Eve on Lake Garda
As mentioned earlier, many villas offer a sumptuous New Year's Eve dinner, a true gala dinner where you can toast among ancient walls and sparkling chandeliers.
Some residences offer an exclusive dinner experience, like the New Year's Eve dinner at Villa Conti Cipolla, a nineteenth-century villa near Peschiera del Garda. Or the famous Villa Caratti in Punta San Vigilio, which has hosted famous figures over the centuries such as Winston Churchill – accessible via a private dock with a panoramic view of Lake Garda.
Here, as in other historic homes, there is usually a park surrounding the villa, and the spaces are always ample to accommodate friends, couples, and families.
In Lazise, for example, even the Dogana Veneta offers a unique New Year's Eve celebration in a building with a beautiful terrace, which has medieval origins and in the 16th century was the center of trade in the ancient village on Lake Garda, and for one evening, it can come alive before your eyes!
New Year's Eve in Agriturismo on Lake Garda
For those who don't fancy grand hotels or social gatherings, there are many bed and breakfasts (B&Bs) and agriturismos (farmhouses) scattered throughout the Lake Garda area and its surroundings. You can find cottages or apartments that offer comfortable accommodations and allow you to organize a family or friends' dinner, perhaps savoring typical products of Garda tradition.
Moreover, several campgrounds also provide a New Year's Eve service in a relaxed and Spartan setting that can offer an escape from the hustle and bustle of the big cities.
The day after, you can wake up surrounded by nature and consider visiting some small villages nearby or taking a walk in the open air!
New Year's Eve at the Disco on Lake Garda
The New Year's Eve party is always a favorite for those who love to dance, so many discotheques along the Garda shore organize parties.
Dance enthusiasts can find alternative solutions to the large discotheques (especially those near Desenzano were a cult!). In any case, it's advisable to keep an eye on clubs and associations that may offer New Year's Eve dinners with DJs and listening music – from Caribbean dances to electronic beats, there won't be a shortage of options to move a bit in your seat.
New Year's Eve… with a Dive!
A tradition, at Lake Garda as in many places in Italy, is to take a dip in the water to wish for a good start to the new year. In Riva del Garda, at noon on January 1st, you can dare to take a "splash" in the waters of Lake Garda, usually from Piazza III Novembre.
Alternatively, Bardolino is another place to face the cold of Lake Garda, if you're fit and brave enough.
Indeed, according to tradition, the cold keeps you young, but to take the plunge, it's good to make sure you can challenge the waters of Lake Garda and start the year with the right dive!