Exactly, when I write about Toscolano Maderno, my heart opens up and the words flow without any hesitation and without the fact-checking that other towns on Lake Garda have obliged me to do before now.
As you know, I have been living in Toscolano Maderno for more than ten years now and it is here that I have found the peace I was looking for, thanks also to the many kilometers of beaches that are present. I frequent one in particular, but I have tried them all and honestly I have no major preference other than dictated by proximity to my home. So, I'm going to list them for you.
Beach of the Olive Trees
I just wrote to you that I frequent a particular beach and it seemed right to tell you immediately which one it was. In fact, it is the beach of the olive trees. You understand well that it is called this for a specific reason, thanks to the many olive trees that frame it, especially where the paid parking lots are located.
I essentially divide this beach into 3 fundamental sections:
the left side (which is essentially in front of the Cartiera, it is a free gravel beach)
the central side (which is where there is grass where umbrellas and sunbeds are placed for a fee, but it is also possible to use it as a free beach)
the right side (which is where the beginning of the lakeside walk with the marina is located, also in this case it is a free gravel beach)
This beach has a bar and a restaurant, therefore well served also by free toilets for everyone. In addition, it is possible to rent pedal boats and canoes from the canopy located right at the entrance.
This is my favorite beach, why? It is the closest to my house and above all it is perhaps a little less crowded than the most famous beach, decidedly impractical during the high season.
Lido Azzurro Beach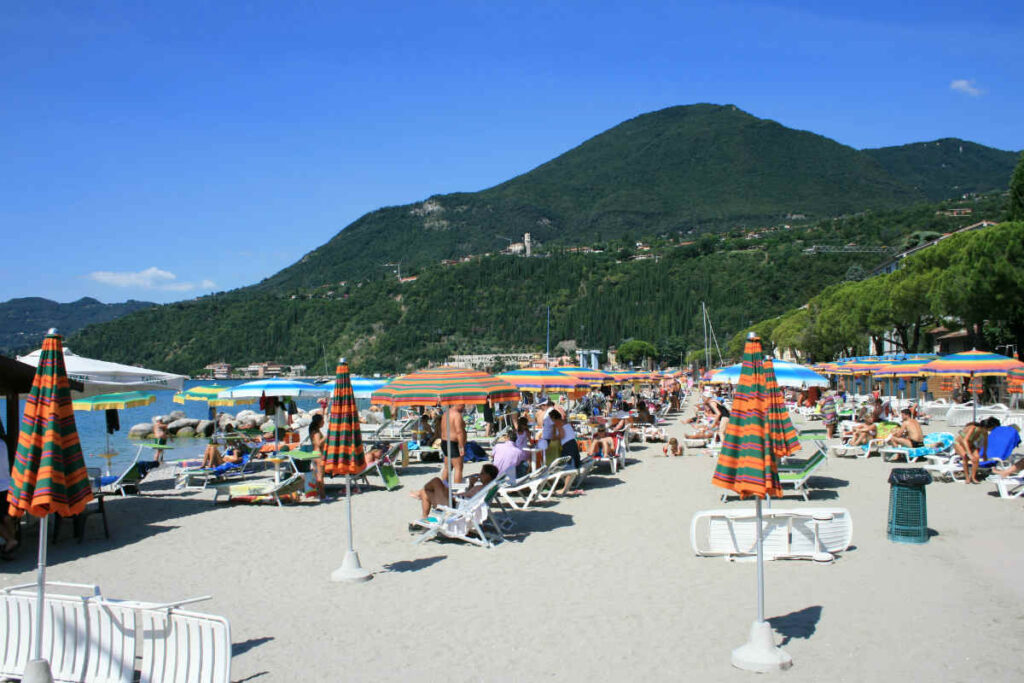 The Lido Azzurro beach is perhaps the most famous as far as Toscolano Maderno is concerned, it is practically at the beginning of the Zanardelli lakeside promenade and also in this case it can be divided into two sections:
Sandy Beach (imported): it is a beach for the exclusive use of those who rent sunbeds and umbrellas, but I assure you that it is like being at the sea. The difference, in fact, is absolutely imperceptible. Once, right next to it, there was a restaurant always called Lido Azzurro which closed at the beginning of 2020 and is now waiting for a new owner.
Gravel Beach: here is the free public beach where, behind it, there is a large green area always freely usable for sunbathing and relaxing.
In addition, right here is one of my favorite bars, the Ciringhito, right in front of the lake and the free beach. A real gem to accompany relaxation at happy hour!
P.S.: again, this area is "covered" with paid parking lots but absolutely very convenient as they are practically a few meters from the beach.
Riva Granda Beach and Bau Beach
In the northernmost part of Toscolano Maderno, there is this beach with white gravel and stones, next to the port of the (former) hamlet of Toscolano. In this case, free parking can be found, but as you can well imagine during high season, it is necessary to arrive as early as possible.
There is a bar/restaurant at the marina that I personally really like also thanks to the view offered by its terrace on the lake.
Next to the Riva Granda beach, there is instead the beach dedicated to those who do not want to be separated from their four-legged friends: here, in fact, there is the Bau Beach. Behind it, there is a raised garden where you can even admire some archaeological finds dating back to the period of the Roman Empire.
Benella Beach
Not very well known but, from a naturalistic point of view, it is perhaps the most beautiful, this small beach is located at the beginning of Toscolano Maderno (for those coming from Salò) and is a real gem. First of all, it is a slightly more hidden beach than the others and for this reason many times it is even freer.
But its beauty lies in the mirror of water, in the fact that it is a beach with gravel and stones different from the others, made up of small pebbles that are almost harmless. The view of the Gulf of Maderno is another advantage and, behind it, there is a small park where you can take refuge from the sun's rays thanks to the trees that overshadow it.
The only "flaw" for those coming from outside: there are no nearby parking lots but you have to cross the nearby "carta bianca" bar and go straight to the end of the walk that ends right on the park above the beach.
Good relaxation to all of you!