Is a vacation on Lake Garda your goal? Certainly everything will have to start from the choice of the location where you will stay, and the structure where you will book your Garda nights. If you choose Desenzano, you will certainly opt for a charming and historic village, where you can enjoy the natural beauty of Benaco, but also the suggestions of the ancient castle, or the vibrancy of the harbor.

Depending on your budget and your vacation expectations, Desenzano offers hotels of various categories, with the possibility of staying in the center or away from it, in nature in a wellness center or in historic buildings… in short, a top 10 of the best hotels in Desenzano includes many discoveries!
Hotels in the historic center of Desenzano
To discover the best hotels in Desenzano on Lake Garda, you can think first of all about how many stars you are willing to invest – a metaphor to start from the most prestigious historic structures in the center and reach the most accessible and convenient Garda village hotels. These hotels offer costs per night ranging from about 70-90 euros in low season to 200-250 euros in high season; increasing, for facilities with extra services.
Park Hotel
Among the best hotels in Desenzano del Garda, it is located in the historic center near the harbor and welcomes you with a stunning lake view. The hospitality of this 4-star hotel offers modern and elegant design rooms, equipped with balconies with a view of Garda, a rooftop pool with a hot tub, a solarium terrace and a breakfast service in the veranda or garden on Garda.
Founded at the end of the 19th century for international clientele, at the time it was called Albergo Due Colombe, today it lives between a cosmopolitan atmosphere and the traditions of the territory, evoking the green and blue colors of the lake.
Park Hotel offers you a Garda cuisine restaurant, and for business travelers also a well-equipped meeting room. This hotel is ideal for events and receptions, thanks to its mix of the intimate charm of the past and the modern and refined beauty of the furnishings.
Hotel Villa Rosa
On the Desenzano lakeshore, you can enjoy the hospitality of a 4-star historic hotel that is 10 minutes from the center and reserves a beach for you to experience Garda in maximum comfort. A classic neoclassical villa on Benaco, made even more refined with design interventions inside.
The rooms await you with all the usual comforts and a balcony to open up to the landscape of Desenzano. Outside the rooms of the Hotel Villa Rosa, you will find a lake-view terrace for breakfast and dinner, a garden with an outdoor pool where you can relax among the greenery, sun loungers and a hot tub; if you are more dynamic, the hotel also reserves a 24h fitness room for you.
The restaurant offers local and Mediterranean cuisine, but also gluten-free options for those who want a special diet. By the pool you will find the Pool Bar, perfect for an aperitif, appreciated by customers as much as the rich breakfast. If you are looking for a hotel for meetings, Villa Rosa is an elegant location with a soundproofed and equipped conference room.
Alessi Hotel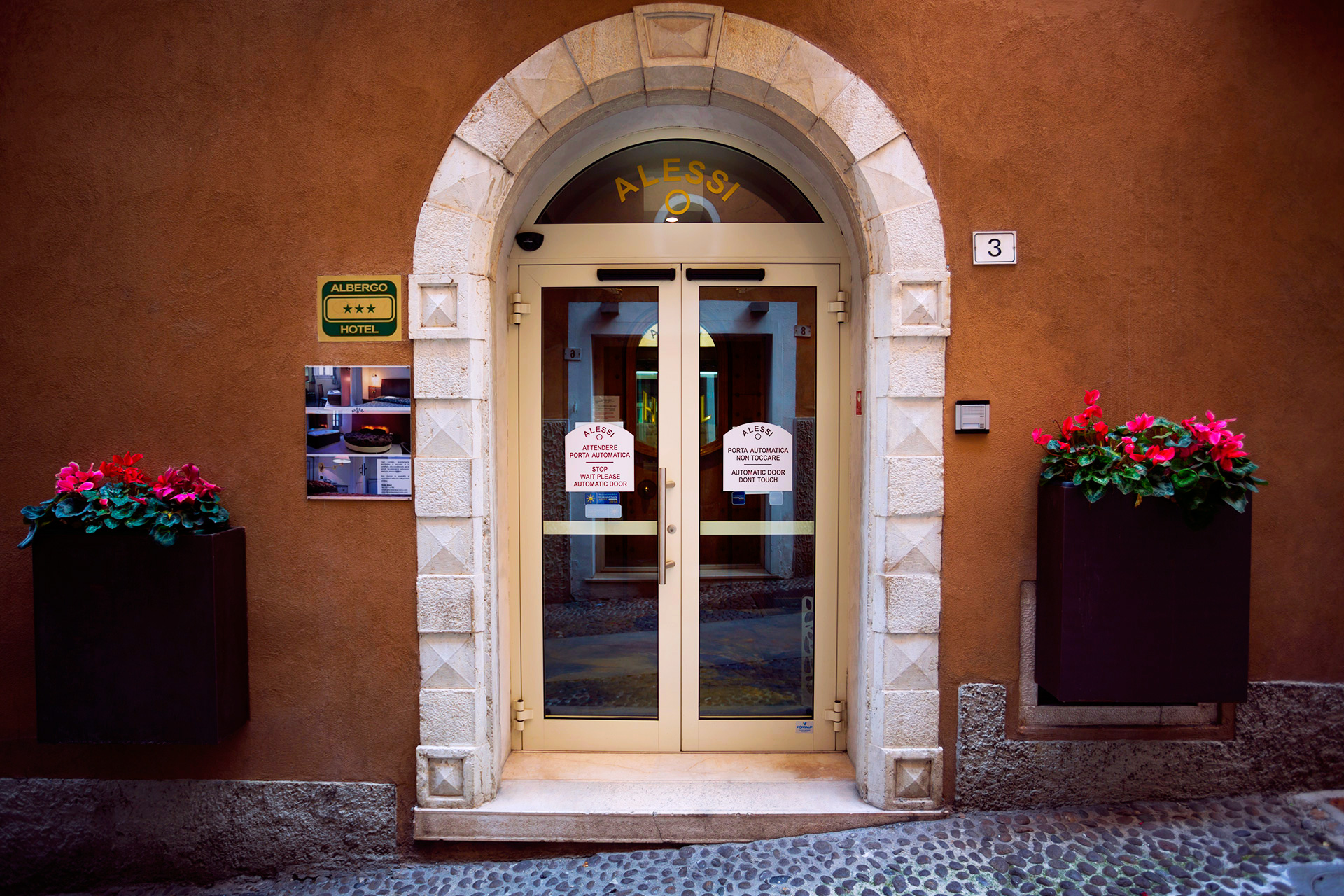 The heart of Desenzano beats in this 3-star hotel located on the shores of Lake Garda and near the scenic Castle. The Alessi family has been welcoming guests to this 14th century property since 1946 and now offers comfortable rooms, renovated with modern and creative design, including both standard and superior, more elegant rooms.
It is located in a strategic location for visiting Desenzano, with a beautiful view of roofs and the lake, and you can also reach it by car, as it has a private parking lot.
For those who enjoy good food, the Alessi Hotel offers the well-known Corte Pozzi restaurant, a trattoria serving typical Garda cuisine and pizzeria, as well as a well-stocked wine bar open for lunch and dinner. The hotel also has a room suitable for business lunches and dinners, meetings and private events.
Cheap but comfortable hotels in Desenzano
These hotels are sought after for the opportunity to stay at reduced costs, with 3-star services that are well cared for in their hospitality, and at competitive prices; the average cost for a double room per night is 90-120 euros in the summer season.
Villa Lilla
Just a few steps from Lake Garda, this hotel offers a central, renovated structure with the relaxed atmosphere of a villa. You will find the opportunity to enjoy the private garden and outdoor pool, as well as rooms that offer various types of service – including quadruple rooms and a dependency.
An interesting feature is the possibility to rent the entire villa if you want total privacy, and for a short period you will have a structure on Lake Garda that can accommodate up to 35 people.
Among the small advantages of Villa Lilla there is this one: the hotel offers promotions to taste the specialties of a nearby restaurant, and is a few minutes from the ferry dock to reach Riva del Garda.
Hotel Vittorio
This colorful, welcoming hotel in Desenzano del Garda offers a comfortable stay and 3-star services that are well taken care of. It is located in a great position on the lakeside promenade in front of the harbor.
Some of the rooms at the Hotel Vittorio overlook the center and the lake, others overlook the old harbor, all are equipped with air conditioning and satellite TV. They are modern rooms, and some offer a lake view terrace, furnished with tables and chairs.
For those who love to bike around, you can rent a bike here and explore the center; the hotel is close to the central area with shops and boutiques, the beach, and the tourist boat dock.
Hotel Piroscafo
Located in a historic building in the old port, this 3-star hotel in Desenzano del Garda is a welcoming and popular property for its balance of quality services and cost.
The family-run management makes guests feel at home immediately, with the care in the functional and variously sized rooms, the excellent breakfast and the balconies overlooking the lake or the streets of the center. You can also receive useful information for visiting the town and the beaches on Lake Garda, as well as restaurants and bars in the area.
Often the Hotel Piroscafo is sought after for a vacation in Desenzano, due to its central yet private location.
Green hotels with wellness centers in Desenzano
Palace Hotel
In addition to staying at this prestigious and charming property on Lake Garda, you can also enjoy two pools, one of which is a saltwater pool on the top floor, where there is also a solarium terrace. The wellness center offers massage services, beauty treatments, a Turkish bath, emotional showers, and a Finnish sauna – resources for rejuvenation in a completely comfortable atmosphere.
Around the 4-star Palace Hotel is a flowery park, which creates a perfect oasis for those seeking a comfortable space during their vacation on Lake Garda, as well as for those who need to organize confidential conferences or meetings (there is a highly technological area).
Hotel Aquila d'Oro
This 4-star hotel is located between Sirmione and Desenzano, offering stunning panoramic views of Lake Garda and the mountains, as well as a relaxing atmosphere with a flowery garden and outdoor pool – the hotel leads to a walkway below, directly on Lake Garda.
The rooms offer a lake view, are spacious and a panoramic terrace and a park with a loggia complete the Eden-like environment. The Aquila d'Oro Hotel is often chosen for a romantic holiday in the countryside, as well as for its private location as a conference center.
This hotel in Desenzano is also a restaurant and lounge bar, renowned for its refined cuisine and rich wine cellar – ideal for romantic dinners, the rooms are often visited for aperitifs, business meetings with a coffee shop and tea room.
Hotel Acquaviva Del Garda
This 4-star hotel is located on the shores of Lake Garda, outside the center, with an elegant and charming structure, surrounded by a well-tended garden, with a scenic view of the lake and the nearby Scaliger Castle. You will also find a renowned wellness center in the thermal circuit of Sirmione, perfect for your maximum well-being during your vacation, with an indoor pool, sauna, turkish bath, hot tub, and gym.
Located on the shores of Lake Garda, this 4-star hotel is considered one of the best hotels in Desenzano del Garda. The Acquaviva Del Garda welcomes you with modern rooms and suites, contemporary and refined design furniture, and a restaurant service with a panoramic terrace. For complete physical and mental rejuvenation, you can also request a healthy and nourishing dietary menu.
L'Albergo Trattoria Italia
One of the most sought after bed and breakfasts in Bardolino is Corte Delle Cicale, surrounded by greenery in both the garden and the surrounding countryside, which extends towards Monte Baldo. It offers a place to stay in Bardolino equipped with spacious rooms decorated in a rustic but refined style, a rich breakfast, and a pool where you can relax in complete tranquility. A true oasis for those seeking a peaceful and pleasant stay, just 10 minutes by car from the center. 
In the morning, a rich buffet breakfast awaits you with both savory and sweet options (homemade cakes!), as well as a coffee shop with a variety of options including espresso, cappuccino, and latte macchiato…
When you return, you can enjoy the delicacies of the restaurant, with local typical dishes, a kitchen with fresh ingredients from the area and even a fixed price menu, useful if you are not a guest but want to taste the goodness of the hotel restaurant.